5 Cleansing Oils to Try This Winter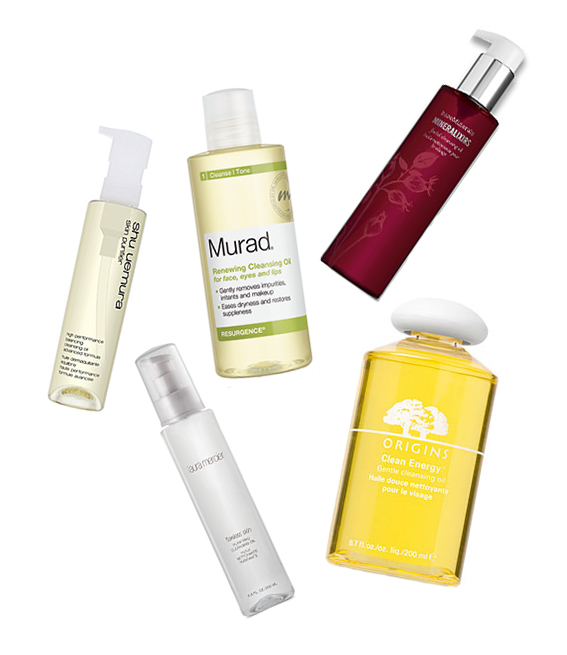 Imagine how hard it was to remove thick, pancake makeup back in the early days of Hollywood. Those film stars really packed it on. And since they didn't want clogged pores and terrible skin, they used an oil-based cleanser to gently dissolve it away. It was a genius idea that inspired  Shu Uemura to release their very first oil-based cleanser in Japan in 1967--a product that still has a cult following today.
Fast forward to 2014, and it looks like the virtues of cleansing oil still hold strong. It's a gentle way to remove every last spot of makeup on your face without stripping your skin. And with all the added skincare benefits that new and improved versions contain, we see no reason to skip cleansing oil this season. Here are a few of our favorites:
1. Shu Uemura High Performance Balancing Cleansing Oil ($67)
Our list has to have a cleansing oil from Shu Uemura. This formula is the closest to the classic, but it now contains camellia oil for it's antioxidant properties, ginger root extract to calm inflammation and dep sea water for added hydration. If you're looking for a good makeup remover, this is it.
2. Murad Renewing Cleansing Oil ($32)
We can only expect the best from Murad. If you do a quick search of this product, many reviews rave about the number of compliments they receive on their skin and the glow this cleanser gives them. It uses a botanical blend, jojoba and licorice extract, as well as sweet almond oil to cleanse, hydrate and repair the skin.
3. bareMinerals Mineralixirs Facial Cleansing Oil ($30)
bareMinerals has been the champion for women who want makeup that's good for their skin, and their recent launch of skincare products is just an extension of that. What we really love about this cleansing oil is that it won't irritate skin. Watch this episode of The Cut to see which other cleansers are good for sensitive skin.
4. Laura Mercier Purifying Cleansing Oil ($40)
Waterproof makeup fans, this cleansing oil by Laura Mercier is your friend. This one will take off all of that makeup so you don't have to rub your skin too much, which can actually age it. While it is effective, it's also gentle. Your skin will feel soft and hydrated after each use.
5. Origins Clean Energy ($29)
This gentle cleansing oil by Origins contains a mix of natural, non-comedogenic oils including olive, sunflower, sesame, safflower, macadamia and kukui nut to name a few. All of these oils combined help to remove makeup with ease, while they hydrate the skin. The main goal of this cleanser is to help your skin "breathe freely" as it also removes environmental pollutants that stress and age the skin. Plus, it has a lovely citrus scent that somehow makes washing your face an enjoyable experience.
And one more tip. Cleansing oil is great for those with oily skin. After all, oil cleanses oil best. Think about it, and let us know your thoughts in the comments. Happy cleansing!