These Beauty YouTube and Instagram Accounts Will Scare Skincare Enthusiasts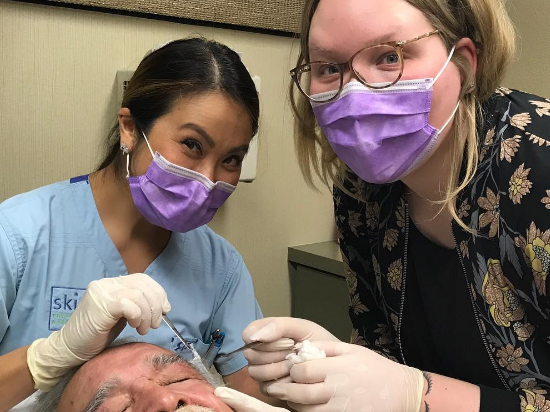 As proven by the 21 million people who have watched this blackhead extraction video, people are mesmerized by disgustingness: there's something about watching others go through the pain of popping a pimple that makes us grateful it's not us. It may be hard to believe that these cringe-worthy videos are so popular, but when accounts solely dedicated to stomach-churning images have thousands — or even millions — of followers, they're clearly doing something intriguing. In honor of Halloween today, here are a few of the YouTube and Instagram accounts that'll be a real scare for skincare aficionados and beauty enthusiasts.
1. Dr. Sandra Lee a.k.a. @drpimplepopper
Dr. Sandra Lee's pimple popping and blackhead extracting videos on YouTube and Instagram have gained her about 4 million followers on social media.
2. @california_cosmetics
If needles make you squirm, this account is definitely not for you. California Cosmetics gives an in-depth look at a few of their cosmetic procedures, including lip and cheek fillers.
3. Jenna Marbles' 100 Layers of Things
Less of an account and more of a trend that spread across YouTube were 100 layers of makeup videos. Whether it was 100 layers of lipstick, foundation, or nail polish, people went to the absolute extremes with this challenge. Social media personality Jenna Marbles took the challenge to the extreme and did 100 layers of foundation, fake eyelashes, spray tan, hair spray, nail polish, and lipstick. As you can expect, things got pretty messy very quickly.
4. @EyebrowVideos
"Brows on Fleek" is taken to a whole new level with this Instagram account. It shows the intimate details of waxing, threading, and plucking eyebrows to perfection. Although the end result is beautiful, the videos might make hair removal-phobes squirm.
5. Jessa Esthetician on YouTube
Possibly the most relaxing videos of them all are ones of sugaring or waxing. YouTuber Jessa Esthetician has some amazing, disgusting videos of her sugaring people's legs or faces. The entire account gives a look at the life of an esthetician and even has some pimple removals and chemical peels.
Still in a squeamish mood? Below, check our first-ever episode of PLASTIC with Dr. Karan Dhir:
Main Image: @drpimplepopper