The Dos And Donts Of Being Vegan At A Music Festival
Coachella has passed, but music festival season is far from over. In other words, brace yourselves— the flower crowns, cowgirl boots, and 20-minute long Snapchat stories have just begun. And I can't be more excited!
These days, I'm all about that festival food. If you can't find me by the main stage, I'm probably finishing my second vegan taco by the food trucks. Yes, you read that right: VEGAN. It may take a bit more research, but it's more than possible to treat yo'self vegan-style at any festival you attend this summer.
Whether you're vegan, or you simply enjoy a plant-based meal, here are my personal tips to make your experience easy, delicious, and cruelty-free:
DO your research:
There's nothing worse than being hungry and unprepared, am I right? A quick Google search will list the vendors at the festival, including the menus. Look over them ahead of time to decide what choices are right for you. Here are the ones I found for Stagecoach, Lollapalooza, Bonnaroo, and Governors Ball. If you have any questions, don't be afraid to call the vendor. Even though you're 99.9% sure falafel is vegan, you want to be sure there are no hidden ingredients, such as honey or fish sauce. Wouldn't you rather know before standing in a long line?
It's also important to check the booth location. Depending on the festival, some vendors are only accessible with a VIP pass. It will also be easier to know where it is, rather than trying to spot it in a crowd of people.
DON'T get caught up on being a "healthy" vegan:
"I had THE BEST salad at Coachella" said no one ever. While there ARE healthy vegan options at the festival (acai bowls, cold pressed juice, etc.), you won't want to miss out on the rest of the noms: vegan nachos, burritos, ice cream, and my personal favorite, TACOS. Like I said, you know where to find me. Taco in hand, loving life.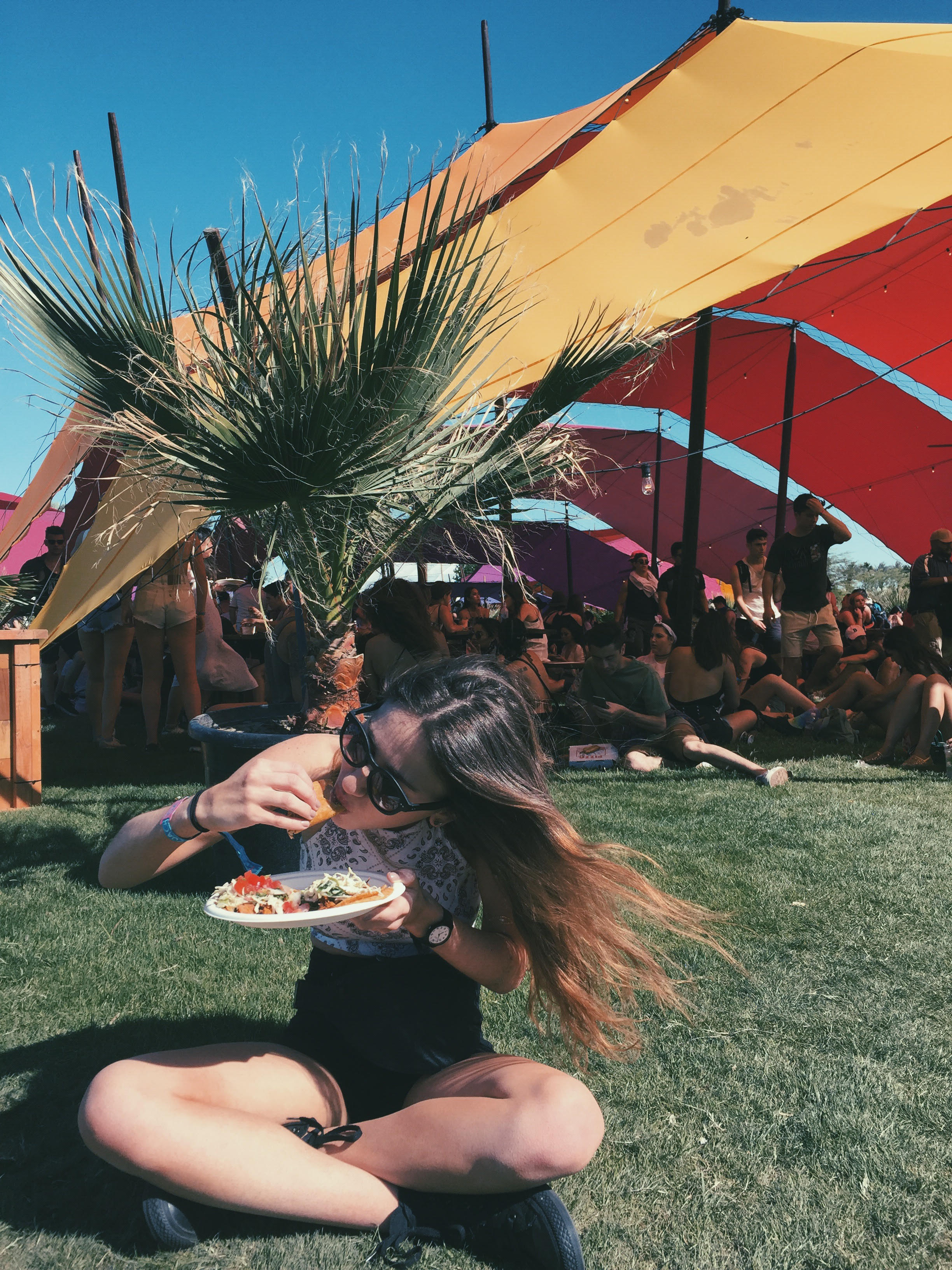 DO FUEL UP:
As fun as festivals are, they can be exhausting. The hot sun can take a lot out of you! To avoid burnout, make sure to eat a nutritious breakfast in the morning. It will keep your energy up and you won't end up famished by noon.
Another way to stay energized is to eat nutrient-dense foods throughout the day. I always like to play it safe by packing high-protein snacks in my purse, like nuts and protein bars. These are great because they can withstand extreme temperatures. You can also make your own bars ahead of time like this recipe from Song Of Style. It's one of my favorites!
Ingredients:
1 cup Quick Oats
4 tbsp Chia Seeds
1/4 cup Sunflower Seeds
1/4 cup Coconut Oil
12 Dates, Seeded and Chopped
Unsweetened Coconut Flakes for Topping
Directions:
1) Preheat oven to 350 degree Fahrenheit.
2) Mix the oats, chia seeds and coconut oil together in a bowl, evenly coating the granola mixture with the oil. Spread on the parchment paper.
3) Bake for 15 minutes, stir, and then bake for 15 minutes more, or until golden brown.
4) Let cool for five to ten minutes.
5) To create the bars, mix the warm granola with the chopped dates in a large bowl and stir with a large wooden spoon, cutting the mixture together until it is completely combined.
6) Line a glass dish with parchment paper, and evenly press the date and granola mix into the prepared dish. Sprinkle coconut flakes on top.
7) Cover the top with plastic wrap, and freeze the bars for two to three hours.
8) Slice and serve.
9) To store, wrap the bars in parchment paper and store in the refrigerator
don't forget cash:
Not a vegan tip, just a human tip. You won't want to miss out on the vegan ice cream truck just because they won't take credit card.
do hydrate:
Another general human tip. No one wants to skip out on their favorite musical act because they are in the medical tent with heat exhaustion. Stay hydrated, people! Aim to drink 16-24 ounces every hour, especially if you are drinking alcohol. For more hydration benefit, pack packets of Emergen-C to mix in your water that will replenish your electrolytes you lost from sweating. Fresh fruits and coconut water will also be available on the festival grounds. Both are a great supplement if you are sick of drinking plain water.
DOn't forget to take pictures:
I know, it's the millennial in me. But this is your chance to show people how delicious and accessible a vegan diet can be!
Make sure to keep following #MyVeganDiary, my series that focuses on living a vegan lifestyle, on everything from beauty and skincare to recipes and more. Do you have any tips I should add to my list? Let me know in the comments below!